By Richard DePaso | August 4, 2022 | Leave a comment
If I could tell you that we at Aardvark Video and Media Productions could perform a low-cost inconspicuous live streaming of your presentation or meeting with multiple roaming cameras and a very small equipment footprint would you want to hear more?
For years we've been live streaming (even way before the Pandemic) with expensive cameras in addition to streaming setups similar to what you would see in a TV studio. This requires highly trained technicians and a lot of expensive equipment. Of course, this isn't at the level of an event where we bring in $50,000 or more of equipment. However, for many of the needs, we run across our low-cost solution is more than adequate.
Additionally, this system integrates seamlessly with "Shopify" so that it can be used to stream sales events, non-profit events, or anything else where a shopping cart and immediate sales and discussion with the salesperson is of value.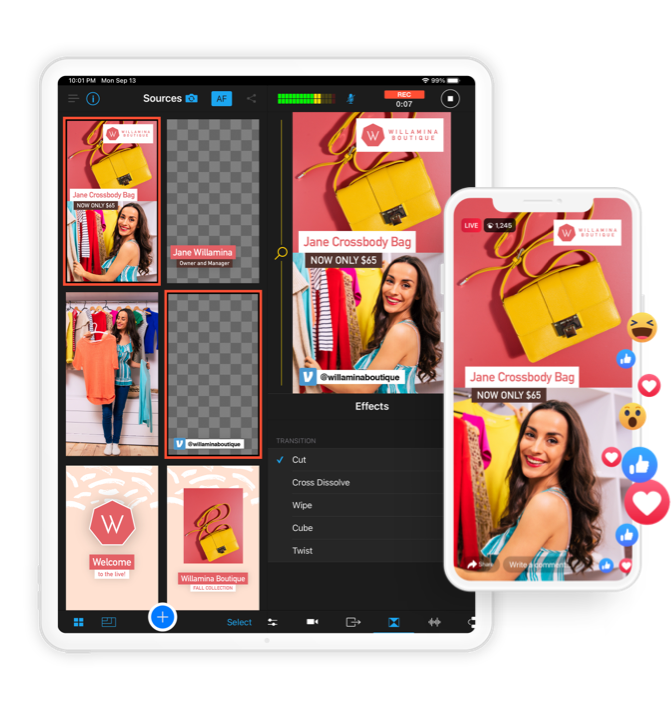 Let me tell you what we are able to do for you with for this low-cost/small footprint system
With the amazing camera power of the latest cellphones and tablets, we've developed an inexpensive inconspicuous live streaming way to have a tablet as a switcher/camera and cell phones as roaming cameras with the ability to "live switch" up to 12 mobile devices at a time streaming to YouTube, Facebook, Zoom, and many other applications – including adding audio from your presentation audio mixer or from our microphones. If your people have iOS devices, rather than us bringing in a technician for each camera, we can do it with one tablet and your people manning iPhones
We did a recent test at a presentation for a local networking group, the All Commercial Networking Group that brings influential and informative speakers for their monthly meetings , and though we were limited by the audio connection the venue could provide, this short clip is from that.
What can a low-cost inconspicuous live streaming setup like this provide?
We can use this setup at any of your events, and if your people have iPhones, they can be the camera people roaming and capturing everything. You can also make money selling through Shopify. This can save you the cost spent on us providing high-end equipment and numerous trained technicians. And if budget more than anything else is the concern, this could be your solution
Stepping up the setup?
Recently we did a second live streaming lower-cost setup with an intermediate level of equipment that replaced the roaming phones with two AX53 cameras, one capturing the audience, the other capturing the speakers, and a third feed connected from the laptop that was presenting the PowerPoint presentations all while live-mixed and streaming to Zoom. This required a larger footprint with a table to set up and operate our equipment. We did this complimentary for the Las Vegas Territory organization that we belong to. Rather than using our highly experienced and skilled technicians, we did this with our interns who are in training.
For Las Vegas Territory, this was their first time doing this type of thing and they learned quite a bit about what is needed in the future.
I shave my head but I was still looking for hair to pull out trying to get them to pass a microphone we provided to people asking questions!!!
Though this requires technicians to operate the equipment, it saves cost on some of the equipment and provides a solution that could be more than adequate for many events.
Here is a condensed sample of what we live-streamed:
What's next
In our next blog and moving forward with our efforts to keep costs down and quality up for our clients we'll describe what we are doing with PTZ (remote pan/tilt/zoom) cameras where one or two "highly skilled operators" can operate the entire show and from there we'll go on to discuss a full-blown setup designed to give top drawer results with extensive titling, animations, video clip inserts, remote feeds, sending to multiple streaming platforms, and more.
Contact Us!
If anyone reading this would like us to record or live-stream their next event or to help sell online, reach out to us at AardvarkVideo@gmail.com or call our studio at 702-897-4477
Tags: aardvark video las vegas, affordable live streaming, all commercial networking group, las vegas territory, Live Streaming, low cost live streaming, switcher studio